Tour Lake County Florida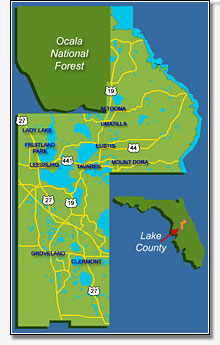 Lake County is located in the geographical center of the State between the Florida Cities of Orlando and Ocala. The County contains over 1,000 lakes and 202 square miles of water.
Lake County's terrain is very different from the rest of Florida, which is mostly flat. Averaging 184' above sea level, it contains some of the highest elevations in the State. Lake County is the home of the Harris Chain of Lakes covering over 50,000 acres connecting to the Atlantic Ocean through the Ocklawaha River.
The winters in Lake County are cooler than in South Florida or on the coasts. The average January temperature is 59.7 degrees F, and the average August temperature is 82.4 degrees F. The average rainfall is 47.57 inches, falling mostly in the rainy season between June and October.
We have distinct seasons with beautiful foliage color changes, but our winters are mild. There's just enough of a nip in the air to remind you that the cooler season is here. The largest city is Leesburg with Eustis coming a close second with over 15,000 residents. Expanding Clermont has seen a 30% growth rate since 1980 and has become the bedroom community of nearby Orlando. Lake County continues to grow and is one of the fastest growing Counties in the State of Florida.
The City of Lady Lake is the home of "The Villages", the largest planned retirement community in the United States with a population of over 100,000 residents. Lake County is bordered on the North by the Ocala National Forest. The forest covers a total of 383,573 acres of pristine woodlands, ecological sites, trails and natural springs. The City of Umatilla is the gateway to the National Forest.
The heart of Lake County is the Golden Triangle Area. The triangle is made up of the cities of Mount Dora, Tavares and Eustis. Tavares is the county seat housing the County Court House and Government Centers. Eustis is a small city that is rich in history. Nestled along the eastern shore of Lake Eustis, the 7,000 acre lake provides a picturesque background for this beautiful small town where friendliness is not a thing of the past.