Mount Dora Area Shopping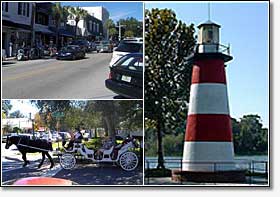 Mount Dora Florida is known all over the country as an antique shoppers paradise. Visitors scour the antique shops, estate sales and flea markets looking for that special find to strike it rich or just complete their collections.
Mount Dora, named one by Money Magazine as one of the best places in the country to retire, is known as the "The Antique Capital of Central Florida." Along with plentiful antique shops in the quaint historic village, the place to see is 115-acre Renninger's Antique Center. Open weekends only, this sprawling center features 250 dealers selling a selection of American and import period furniture, deco designs, paper goods, glassware, gadgets and everything else they couldn't fit in the Smithsonian.
Catch Renningers on the third weekend of any month and you're in for a treat. Mini Fairs attract approximately 500 dealers every month and on the third weekends of November, January and February, this renowned market draws roughly 1,400 dealers for a special Friday through Sunday sale. Well worth a two-day stay, downtown Mount Dora is complemented by antique malls, art galleries, coffee shops, carriage rides and restaurants.
The Mount Dora Village Merchants Association maintains a website containing pictures, maps, merchant listings and a festival calendar. There website is located at www.mtdora.org.