Mount Dora Area Restaurants
The Golden Triangle area has many wonderful restaurants. Here are a few of our personal favorites.
Pisces Rising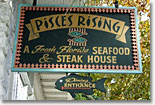 Located in downtown Mount Dora just west of Donnelly on West 4th Avenue. Single story historic home remodeled in a Key West theme. Don't miss having a drink on the outside patio bar and the spectacular sunsets over Lake Dora. Seafood dishes their specialty. Somewhat pricey, but worth the money.
Goblin Market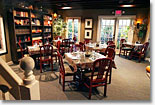 Located in downtown Mount Dora. A little hard to find as the entrance is in an alleyway. Just ask someone and they'll point it out to you. Remodeled two story antique home. A little more formal than Pisces Rising, but you won't need a tie or a jacket. Nice bar on the second floor. Great place for a quiet evening dinner with friends or a romantic encounter.
One Flight Up Coffee House & Cafe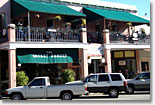 Located in downtown Mount Dora on the east side of Donnelly Street. The entrance is on street level between 4th and 5th. A stairway leads to the Cafe on the second floor. Featuring an outside balcony which the best view in historic Mt. Dora. Separate lounges offer privacy and a living-room-like atmosphere. Their Lattes are wonderful!
Sol de Mexico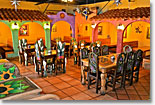 Authentic family owned Mexican restaurant located in downtown Eustis. Great Mexican interior theme with hand carved furniture and fresh Mexican cuisine. Not your usual Mexican Restaurant. Popular with locals. Do Lunch!