Florida's Golden Triangle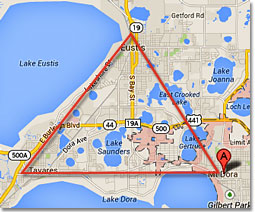 The Golden Triangle is named for the area between the cities of Eustis, Mount Dora and Tavares, Florida. This unique part of Central Florida is rich in history. Early residents were attracted to the area because of it's high elevation, beautiful lakes and majestic oak groves. Today's visitors and residents are attracted for the same reasons but are also looking for a certain "County Feel" this area offers.
The Golden Triangle is know for being one of the friendliest areas in the country. A short 30 minute drive from the outskirts of Orlando, the Golden Triangle is close to big city shopping, cultural activities and sports events, but far from the congestion and "hurry up and wait" lifestyle. It is a slice out of "Old Florida" where everyone knows your name and big city problems seem far away.
Mount Dora is known for is quaint New England style homes and beautiful lakefront scenery. Antique shops and restaurants abound, along with beautiful parks where sunset walks are a must.
Eustis is a traditional country town with an old style downtown area with small shops and local restaurants. The Eustis Lake Walk is a new addition to the town. It is a modern concrete boardwalk with beautiful iron gates and railings where you can walk the lakefront and may even see someone catch a fish or two. The old Florida Hospital building was demolished in 2004, opening room for more shops and an expansion of the already successful downtown shopping area.
Tavares, located on the north shore of Lake Dora, is the County Seat. City employees, court officials and attorneys are frequent visitors to this mixture of beautiful old and new office buildings and court facilities. Here, a wave to a friend crossing the street is common and a smiling face is a pleasant change from typical stone-faced business expressions. In recent years, Tavares has undergone an extensive redevelopment of it's downtown and lakefront area. Anchored by a new 88 slip Marina and Seaplane base, Tavares has now become "America's Seaplane City.