Central Florida is know the world over as the home of many popular tourist attractions. Walt Disney World, Sea World, Daytona Beach, Silver Springs and Universal Studios are located within an hour's drive from our office in Mount Dora. From Caribe Royale Orlando to Disney World, Florida has it all.
DISNEY WORLD

In 1963, Walt Disney sent his brother, Roy, with several close friends and business associates to find a place where he could build an east coast version of his successful California theme park. His team traveled across the country in secrecy, checking into hotels under assumed names, and making anonymous inquiries on available land. They knew that if anyone heard Disney was interested in buying land, prices would skyrocket and adjoining land would be bought up too quickly. Several parts of the United States were considered, among them St. Louis, the Great Smoky Mountains, and Niagara Falls. Walt?s team eventually set their eyes on Florida. Although Walt had no desire to build an oceanfront resort, Florida was an excellent draw for tourists. The weather was almost perfect all year round and its roads were very accessible. Most of all, there was plenty of untouched land, especially in Central Florida.
Forty-five years later, Walt Disney World is the most recognized theme park in the world. The property purchased by Walt Disney totals over 43 square miles and contains just about everything anyone could want in a theme park experience.
SEA WORLD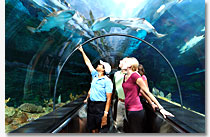 There's no place on Earth like SeaWorld? Orlando! Where else can you challenge thrill-a-second rides one minute and count the teeth on a shark the next? Feed the dolphins, take in an incredible performance, and just try to stay dry when the world famous Shamu? comes a-splashing! SeaWorld Orlando - it just doesn't get any closer than this.

DAYTONA BEACH

Voted one of the best beaches in Florida, Daytona Beach is about an hour's drive from Eastern Lake County. Daytona Beach is well known for its 23 miles of sparkling, white sandy beaches. At low tide, the beach expands up to 500 feet wide and is great for sand castle building, cycling, jogging, fishing or just relaxing in the sun. The Daytona International Speedway is nearby which hosts the Super Bowl of auto sports, The Daytona 500.
UNIVERSAL STUDIOS

Once content to mooch off of Disney's traffic to nab guests for a one-day visit to its Universal Studios theme park, Universal Orlando is now a destination resort in its own right. The wonderful Islands of Adventure is the property's second park. Its three highly themed hotels offer an incredible perk: front-of-the-line, immediate access to most of the two parks' attractions. The CityWalk entertainment/dining/shopping complex and the nearby Wet 'n Wild waterpark round out the resort.
Universal has a brash, in-your-face attitude. If the sweet It's a Small World defines Walt Disney World, the growling King Kong sets the tone at Universal. Things are always blowing up and out of control on its attractions. The City Walk complex fairly throbs with a techno beat at all hours of the day. Underwater speakers at the Hard Rock Hotel's pool ensure that guests never miss a lick of a searing guitar solo. If it's solace you seek, head to the Bahamas. If you want to pump up the action, head over to Universal.
SILVER SPRINGS

Silver Springs is a hidden treasure that is usually missed by most tourists. It is located near Ocala, Florida just outside of north Lake County. Located at the headwaters of the Silver river, the springs gush nearly 550 million gallons (over 2,000 million liters) of crystal clear water every day creating the largest natural artesian spring formation in the world. The waters of Silver Springs and the nearby Silver River are so transparent that this has become a favorite location for the filming of underwater scenes in many movies and television shows.
You can visit Silver Springs and view the underwater creatures in a glass-bottomed boat, take a jungle cruise, visit the wildlife park, petting zoo and alligator farm. You can stroll through the botanical gardens, watch an animal show and listen to a concert.