Tavares Seaplane Base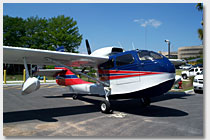 The City of Tavares, which sits on the northwest shore of Lake Dora an 88-slip marina and seaplane base at the foot of the downtown area. The base serves an east-west sea lane on the lake and includes a floating fuel dock with 100LL and marine gas, three floating seaplane slips, a grassy beaching area protected by floating docks positioned offshore, a shallow-angle concrete ramp leading to paved parking for amphibians, and a second set of avgas and mogas fuel pumps in the amphibian parking area. A Ship's Store also is in place complete with a small flight planning and lounge area, supplies, snacks and gifts. The handsome waterfront building is an authentic re-creation of the Woodlea House, built in 1871 by Captain Melton Haynes. Haynes is credited with introducing the "sweet orange" to Central Florida, which led to the area's important citrus industry.
Along with constructing the marina/seaplane base and Ship's Store, the city built a Children's Splash Park featuring a shallow wading pool with a big, colorful twin-engine seaplane that dispenses water out the tips of it's spinning propellers. Tavares transformation from a sleepy Central Florida town with a population of about 13,000 into America's Seaplane City began in 2006 when then-mayor Nancy Clutts resolved to establish a "citizen-generated" vision for the city's future. A series of town hall meetings was held that led to a focus on "invigorating" the city's down-town by developing waterfront projects designed to spotlight and greatly enhance activities that have been a part of the town for decades - boating, trains (at one time there were five railroads converging on Tavares; today a waterfront track connects the city with other lake-region towns), and seaplanes.
After agreeing on a vision statement the city undated its master plan to include waterfront projects, and adopted a new logo and the "America's Seaplane City" slogan with the tag line "Land and See". The logo appears on city vehicles including a pair of recently refurbished water taxis that play Lake Dora. The community has embraced the waterfront development, especially the seaplane base. Three downtown restaurants display murals on their buildings or signs depicting seaplanes.