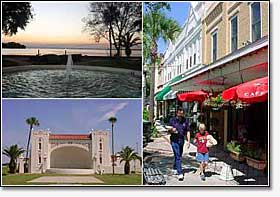 Welcome to beautiful Mt. Dora and the Florida Golden Triangle! Judy Kelley is a full time professional Mt. Dora Realtor specializing in the sale of Mt. Dora single family homes, lakefront property and investment quality real state.
Mount Dora is very different from the coasts of Florida. We are close to Orlando, but far from the hustle and bustle of the big Florida Cities. Our small town laid back atmosphere attracts thousands of visitors a year and many decide to enjoy our lifestyle year round. Some of the largest lakes in Florida are located within our borders. The Ocala National Forest in just a few miles to our north and the popular Daytona beaches are just an hours drive away.
We are the home of the largest natural Chain of Lakes in Florida and literally thousands of small lakes and waterways. Our landscape is painted with pristine waters, abundant wildlife, hilly terrain, giant moss draped oaks, vast pine forests and friendly people.
Mount Dora, Eustis and Tavares have wonderful small downtown shops and restaurants where an evening walk on the lakeshore is just a few steps away. Boating, fishing, water skiing, golf, hiking or horse back riding in the Ocala National Forest are just a few of the pastimes enjoyed by our residents.
Popular events like the Mount Dora Art Festival, the Craft Festival and the Antique Boat Festival attract hundreds of thousands of visitors a year. Classic car shows are common and motorcycle riding is very popular with visitors and residents alike.
Best of all, real estate prices are affordable and our cost of living is much lower than you would expect. Full time residents enjoy a $50,000 homestead tax exemption and Florida does not have a personal income tax.
This website contains over 50 pages of information valuable to anyone who is interested in Lake County homes, real estate and investment property. Information including; photographs, maps, statistical data, attractions, recreational opportunities, local events and details about our schools and medical facilities. Be sure to visit our "Photo Tour" where you can view the local sites and see why we chose Lake County as our home.
This website also contains a powerful search feature that provides direct access to the State of Florida Multiple Listing System (MLS). This is the same database that Realtors use to find property for their clients. We know how frustrating it can be to call on an advertised property and find that it has already been sold. Our listings are automatically updated as soon as a new property comes on the market and removed as soon as it expires or becomes pending.
We hope you enjoy your visit and will not hesitate to contact us if you have questions or wish to tour our available homes.