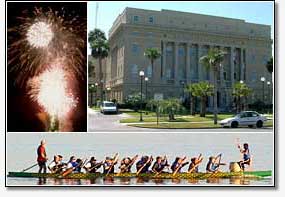 The City of Tavares, located on the north shore of Lake Dora, is the County Seat of Lake County. The Courthouse, police department, jail, departmental offices and courts are all located in the center of downtown. The Historic Courthouse, built in 1924, contains the Lake County Historical Museum, brimming with artifacts tracing the areas past. A pamphlet that outlines a walking tour is provided at City Hall. It leads visitors to several other historic buildings found in Tavares.
This waterfront City has gone through a major renaissance in recent years. As "Americas Seaplane City", downtown Tavares has been transformed from the seat of government business to an attraction of major interest. For more information about the Tavares waterfront, click here.
A number of popular restaurants are worth a visit. From Al's Landing on the waterfront, you can watch Seaplanes arriving and departing while you enjoy your meal. O'Keefe's Irish Pub is a short walk across the street along with a number of smaller waterfront themed eateries. Nearer to the government center, you will find the outstanding Casa Mia Italian Restaurant.
The City of Tavares 4th of July fireworks display on Lake Dora is especially noteworthy. The fireworks are launched across the lake and the reflections off the water and the echoes from the surrounding hills make the show a unique experience.
Another popular Tavares activity is a boat tour on the Dora Canal. The canal, which connects Lake Dora and Lake Eustis, runs through a protected wildlife area with towering cypress trees and abundant wildlife. Alligators are a common site, along with beautiful wood ducks, cranes, egrets and blue herons. In mid winter, you can occasionally observe a family of otters swimming and fishing in the canal.