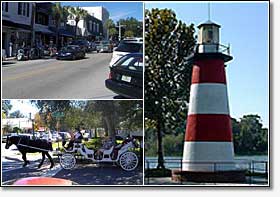 Mount Dora contains some of the most valuable and desirable Real Estate in Lake County Florida.
Founded in 1883, the area known as Mount Dora was first named Royellou after one of the City's pioneers. The town later renamed after the lake that is a short walk from downtown. The "mount" refers to the fact that the city sits 266 feet above sea level, which is a high elevation in Florida. Incorporated as a town in 1910 with 370 residents, the town now has a population of around 15,000 people.
Today, the town retains its small town feel with rolling hills, huge oaks, beautiful lakes and historic buildings. The town is especially know for its spectacular Christmas decorations centered around the downtown park where every tree is covered with thousands of sparkling lights.
Mount Dora is known as having the best antique shopping in the state. The historic downtown area has a wide variety of antique specialty shops and restaurants most of which are open everyday. Lake Dora, with it's beautiful waterfront Gilbert Park, is just a short walk from downtown.
The City hosts many annual events such as the popular "Mount Dora Arts Festival". This event attracts over 150,000 people each year and has been ranked among the top art shows in the country. Other events include the Antique Boat Show, Antique Car Show, Golf Tournament, Bicycle Festival, Crafts Fair and Plant and Garden Fair.
Throughout the year, Mount Dora hosts many arts and cultural activities. You can enjoy plays at the IceHouse Theatre or concerts and recitals at the Mount Dora Center for the Arts.
For fun and relaxation, fish off the dock next to the famous Mount Dora lighthouse, take a scenic cruise of the Dora Canal, enjoy a nature walk on Palm Island or just enjoy the sunsets on beautiful Lake Dora.
To view a full list of Mount Dora Attractions, please Click Here.