Mount Dora Lakefront Property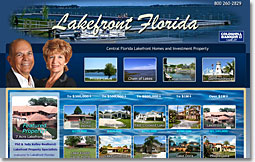 Lake County Florida contains over a thousand natural lakes totally within our borders. The vast Harris Chain with over 50,000 acres of surface area, is navigable in a small boat via the St. John's River from Mount Dora to the Atlantic Ocean at Jacksonville. Large, medium and small lakes fill our landscape. In fact, it is impossible to drive more than a mile or two in Lake County without seeing a lake of some size.
It is the dream of many to retire, move to a warm climate and live on a lake. In Lake County Florida, we can make your dream come true. While lakefront property values have certainly risen in recent years, it is still possible for many to purchase a lakefront home.
If you are searching for a lakefront home or that perfect lakefront home site, visit our website at www.LakefrontFlorida.com. Here you will find information about our lakes, view maps of our waterways, learn about regulations, tour waterfront communities, view lake homes for sale and search through hundreds of available lake and waterfront homes for sale.